Topper Woods

Hike description:
Take in the view of Kitchener's historic Doon South and Homer Watson Park after winding through Topper Woods. Hikers start in the woods, briefly re-enter the subdivision, and then climb through the forest to the top of the hill. The trail continues down to the Grand River, or hikers can travel through the subdivision for a quick loop.
How to get there:
This hike is in Kitchener, Ontario with parking available on the road in the subdivision. This hike in particular starts at the end of Monarch Woods Drive. Marked trail parking is also available at the corner of Homer Watson Boulevard and Doon South Drive.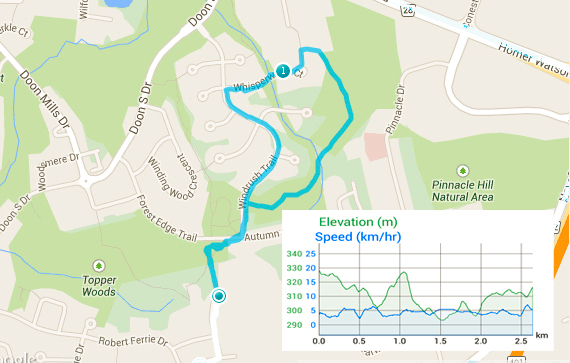 Start at the end of Monarch Woods Drive, there is a pathway marked with a blaze that leads to the woods. After following the trail to the top of the hill, upon descent hikers will meet a path. To the right, hikers can use Whisperwood Court to Windrush Trail to reconnect to the GVT and loop back to the start. Alternatively, hikers can go towards Homer Watson and meet up with trail parking at Doon South Drive.